Chelsea 5th Anniversary on 04/05/17(Wed)-04/09/17(Sun)
NYU Campus Cash Accepted at Greenwich Village Store
Christmas Eve, Saturday, December 24, 2016…Open
Christmas Day, Sunday, December 25, 2016…Open
New Year's Eve, Saturday, December 31, 2016…Open (only Times Square operates 11:30-16:00)
New Year's Day, Sunday, January 1, 2017…Open
Observed New Year's Day, Monday, January 2, 2017…Open
Please call us more detail information or make your reservation.
3 Years Anniversary at Times Square on 08/03/16!
Celebrate 3rd Anniversary at Times Square with Us!
Free small present upon your visit on only 08/03/16!
Anytime Reservation only at Greenwich Village Accepted
We accept Dinner reservation from 6:00 – 10:00 PM ( Last call 10:30 PM). We encourage all parties to be present on time.
Beer Cocktails in Hot Summer
Tanabata Star Festival Event 7/1-7/7
Tanabata, also known as the Star Festival, celebrates the meeting of the deities Orihime and Hikoboshi. According to Japanese legend, the Milky Way separates these lovers, and are allowed to meet only once a year on the seventh day of the seventh month. Our festivities start once customer walk in the restaurant with a display of bamboo. Following the Japanese custom, diners are encouraged to write a wish on a strip of paper and place it on the plant.
Bringing the cultural celebration to New York, we create an interactive experience with customers. Customer wearing a Yukata on 7/7, a popular summer attire, will receive a refreshing sparkling Tanabata Cocktail ($10) for free. Made with fresh watermelon granite, Calpico and cava, the drink also is available in a non-alcoholic version ($6) with soda instead of Cava.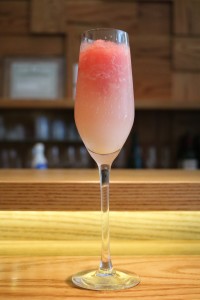 Collect 5 Stamps, Get One (1) Dessert, 10 Stamps, Get One (1) Teishoku for FREE!
You can earn one (1) stamp by ordering one (1) teishoku (set-meal) per customer, per visit at Ootoya Greenwich Village store only.
Redeemed for one (1) complementary dessert at a maximum of $10 value on a next visit upon 5 stamps, and one (1) complementary teishoku at a maximum of $25 value on a next visit upon 10 stamps, by September 30, 2016.
Terms and Conditions
Limited offer at Ootoya Greenwich Village Store only.
Must show the stamp card at the time of payment.
The stamp card cannot be exchanged to cash value.
The stamp card cannot be used with other promotions.
Must redeem by September 30, 2016.
Additional terms and conditions may apply.
Ootoya reserves the right to make any changes of terms and conditions without prior notice.